Toyota GR Supra
The legend is back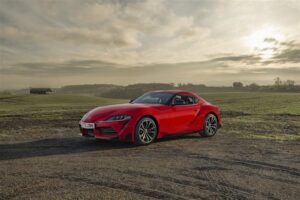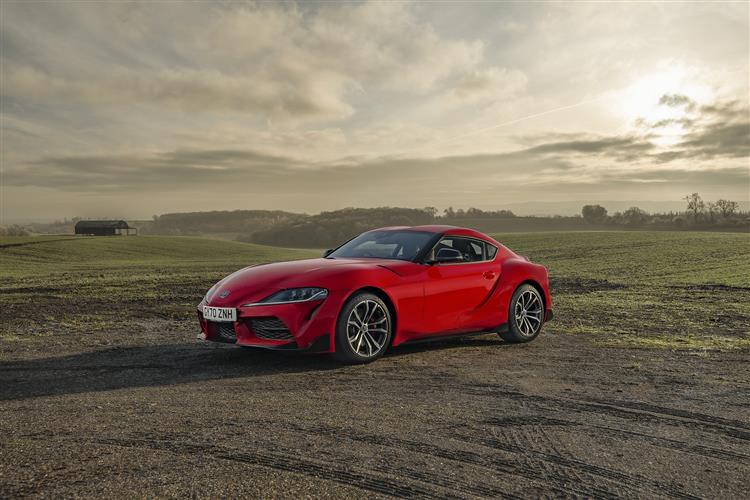 Combining performance and style the GR Supra offers high-end comfort and driving experience. Inspired by over 50 years of rich heritage, the GR Supra delivers the purest experience yet. With an exhilarating blend of power, balance and agility, it offers the ultimate expression of driving pleasure.
The Toyota Supra is a sports car and grand tourer manufactured by Toyota Motor Corporation beginning in 1978. The name "supra" is derived from the Latin, meaning "above", "to surpass" or "go beyond". Produced by Toyota Gazoo Racing, the development wasn't driven by simple performance numbers or headline lap times, but by a single-minded focus on the feeling you experience at the wheel.
A legend among sports cars fans, moviegoers and gamers, the Toyota GR Supra has cemented its place in popular automotive culture over the last 40 years. With its long, sweeping bonnet, compact body and double-bubble roof, the new Toyota GR Supra's bloodline can actually be traced back to the 1960s, and the iconic Toyota 2000GT. View Supra brochure here in full.
The Toyota Supra comes with two engine choices, 254bhp 2.0-litre four-cylinder, reaching 0-62mph in 5.2 seconds, and 335bhp six-cylinder 3.0-litre, reaching 0-62mph in 4.3 seconds. Both are rear-wheel drive and come with an eight-speed automatic gearbox come as standard with standard paddle shifters for more driver involvement (note there is no manual option available).
Performance and drive
On country roads, the GR Supra is fast, then put it in Sport driving mode to add more weight to the steering. The chassis feels highly rigid and meaning the suspension is softer than you imagine. Normal driving mode around town reveals the Supra to be a comfortable choice over bumps. Its light, precise steering makes it easy to park, aided by standard front and rear sensors and a rear cameras. It's also comfortable and quiet on the motorway.
Interior
The BMW's iDrive infotainment system is included, with slick graphics and intuitive menus, and the rotary controller between the seats is easy to use whilst driving. When you're not on the move you can also use the 8.8in touchscreen system, and there's a DAB radio, sat-nav and Apple CarPlay too.
The GR Supra has one of the best driving positions, both supportive on the motorway and holds well through bends. All versions include adjustable lumbar support and side bolsters along with an adjustable steering wheel.
What Coast2Coast can do for you
Looking for a Toyota Supra deal? Coast2Coast have a network of UK franchised dealers who offer customers the very best deals, with full manufacturers warranties for your peace of mind. Some offers state road tax included.
Our team is dedicated to working with you, so if your needs or budget changes, or you feel a deal isn't quite right, then we will begin the search again. As a car broker, and authorised dealer, it is our job to work with you to help you buy a new Toyota Supra and find a deal that simply works to keep your car costs down.
Once the order has been placed with the franchised dealer, and a deposit contribution agreed, you will have full contact with that dealer and payment for the vehicle will be made direct to them. We receive a commission for introducing customers.
If you are looking for Toyota lease deals, look no further. Here at Coast2Coast, we offer various car leasing deals, whether you are looking for a business or personal lease deals, there will be vehicles and offers available to you that will help you find the best deals to fit your requirements. Some contracts may be subject to excess mileage and annual mileage conditions.
Our authorised dealers offer a full range of Toyota finance product offers including Personal Contract Purchase with an optional final payment at the end of the contract, Personal Contract Hire, Hire Purchase and more. Throughout the transaction, we are available to provide help and advice where needed on your personal offers. Note that they act as a credit broker, not a lender.
Credit brokers will offer consumer credit from a panel of lenders who are registered in England and Wales and will be authorised and regulated by the Financial Conduct Authority. Terms and conditions apply, and all offers will be subject to status. Monthly payments will need to be made on all contracts for the length of the agreement, and the vehicle may need to be returned on final payment depending on the type of contract. Any images used are for illustrative purposes only.