BMW Discount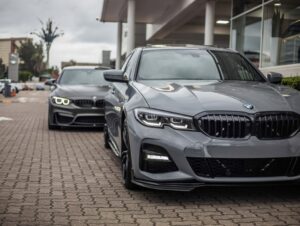 Looking for the best car deals doesn't have to be challenging because Coast2Coast Cars offers a range of BMW models that are available for purchase or lease. BMW is known for quality, luxury and reliability including sleek design as well as impressive performance and comfort too. If you are looking for a luxury vehicle then there is no doubt that a BMW is going to tick every box. BMW is one of the most widely recognised car manufacturers in the world and that's why we strive to offer a range of special offers that can help you make significant savings on your next vehicle.
What Models Are Available?
The design and comfort delivered by BMW cars set them apart from the rest but they also offer something for the whole of the market. Therefore you can find a wide range of vehicles available. The 1 series is perfect for those seeking a small hatchback while the BMW 7 series is suitable for those seeking a flawless driving experience. For those seeking larger vehicles then the X series has something for everyone including the BMW X1, BMW X5 and the BMW X6.
BMW also understands what it takes to create the perfect sports car too, so you can take advantage of the BMW Z4 or one of the stunning M Gran Coupe vehicles that they have available. Furthermore, they also have their plug-in hybrid car options available for those who are looking for environmentally friendly motoring.
Every BMW car is built with precision and delivers an unforgettable driving experience. Their cars certainly turn heads and so, using our configurator, you can build your perfect BMW.
Purchase or Lease – Great Deals Available
At Coast2Coast Cars, we make sure that our customers have access to the best BMW deals on the market. We understand that BMW provides luxury vehicles but we want to make sure that you take advantage of the best deals out there.
We search the market for the best purchase deals, allowing you to make great savings on your dream car. With a wide variety of vehicles available to choose from, you can explore a range of options and packages to determine which vehicle fits your budget and your requirements. Deals are always changing but our team stays ahead of them and always ensure our customers can access them as soon as they are released. Our goal is to bring you the best deals and the biggest savings.
If you're looking for simple motoring them our lease deals allow you to take advantage of easy monthly payments and the top BMW cars. We have a range of the cheapest BMW lease deals. From varying monthly payments, deposits and mileages, we ensure you have the ability to find your perfect lease deal.
Committed to Helping You Find The Right Car
We appreciate the importance of finding your perfect vehicle, after all, it's something you will spend a significant amount of money on and have to live with. Therefore, getting it right is vital. As experts, we make it simple to find your dream car because our configurator offers it all.
You can browse the range of vehicles, choose extras and more, ensuring you can find the right car. It's all about getting it right and that's why we are here for you. If you have any queries then we are also contactable, providing even more assistance should you need it.
Why Coast2Coast Cars
At Coast2Coast Carts, we are authorised and regulated by the financial conduct authority which means every sale or lease deal follows all regulations. We are a team of committed car experts who are here to help you find the latest deals and vehicles that fit your needs. We have a vast amount of experience in the industry and that means that we always strive to offer the best service.
With our expertise, we guarantee that you won't have any problems finding your dream BMW car deal with us!