Toyota Deals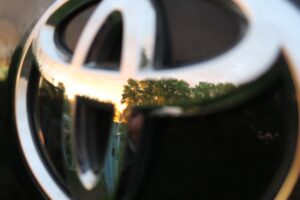 Searching for a new car is an exciting experience, so whether it's your first car or you're looking for a replacement car, you want to make sure you make the right choice. With plenty of manufacturers to choose from you might be wondering what's right for you but we believe that Toyota might have the next car for you.
Toyota has an impressive reputation when it comes to manufacturing cars that are designed to fit the lifestyles of almost everyone. From small city cars to executive cars and off-roaders, they are known for building sturdy cars that are designed to perform.
At Coast2Coast Cars, we have seen many customers take advantage of our Toyota deals and because they enjoy driving their new Toyota, they often find themselves coming back to purchase their next car with us.
Why Is Toyota the Right Car For You?
The truth is, there are many manufacturers out there looking to grab your attention and win your custom but Toyota should be at the top of your list. Toyota has always been known for building cars that are beautifully styled and because they are built with solid engines, they keep ongoing. What this means is that whether you are looking for the latest Toyota on the market, you know what you are going to get.
They have an impressive range of cars for you to choose from and we are offering them all to you. The Toyota Corolla is one of the most widely-recognised models on the market and has been at the pinnacle of Toyota development for many decades. However, the likes of the Toyota Yaris or the Toyota C HR has brought the brand into the modern era. Along with this, the company has also taken the lead when it comes to the future of motoring with the Toyota Prius. What's more, they also provide cars that are ideal for first-time drivers such as the Toyota Aygo, ensuring they cover every corner of the market.
As a leading car manufacturer, you can be sure that whether you are going to purchase a new Toyota or you are going to consider lease deals, you can be sure that you will find everything you want from the wide range of Toyota Options currently available.
Why You Should Search for the Best Toyota Deals
When it comes to purchasing a car, you don't have to pay the full price and that's because we are helping our customers find the lowest prices on the market. Whether you are looking for cheap motoring or a car that offers luxury, searching for deals will ensure you pay the best price.
If you are opting for car leasing then you can take advantage of low deposits and affordable monthly payments. This means that you can choose your payment period and mileage, ensuring you can find a feal that is tailored to your specific needs. Car leasing is ideal if you are looking for a hands-off approach to owning a car while having the ability to hand it back at the end of your lease in order to pick up a new car.
If you are choosing to purchase your car then our deals will help you to make your money work harder. Whether you are paying outright or you want to take advantage of our finance offers, we can help you find deals that require minimum deposits and also benefit from dealer paid deposits too. In fact, there is a wealth of deals that are readily available and that's why you can come to us.
How We Find Our Deals
Our experience of working in this industry has enabled us to build relationships with our network of dealers and manufacturers. As a result, we are always finding deals that work for our clients and that's what sets us apart.
We know that deals and offers can change in the blink of an eye and so, the deals that we provide are the latest out there. Blink and you will miss them but don't worry because our offers are always changing which means that any deals we offer today could be replaced tomorrow.
Our goal is to continue to offer our clients the best value for their money. We understand that owning a car costs money but we strive to drive down prices and help you make savings.
Why Choose Coast2Coast Cars?
At Coast2Coast Cars, we are committed to delivering a bespoke service that helps our customers find their next vehicle. As a team of committed experts, we have a clear understanding of the market and we take a proactive approach, ensuring we put you in touch with deals that work. We are here for our clients and that's what has helped us become widely recognised and valued as a broker, not a lender.
So, when the time comes for you to begin searching for your next car, come and take a look at what we have to offer because we are confident that we can put you in touch with deals that will make you smile.