Best UK prices on Audi A5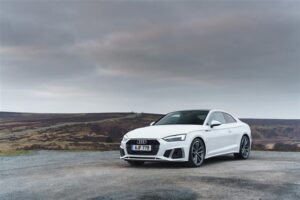 Back with a bang, the all-new Audi A5 underwent a massive facelift in 2016. The stylish coupe has a more aggressive front with raised rear haunches. The new A5 is also available in a Cabriolet version and the increased performance S5 version which comes as a Coupe or Sportback.
Select from the economical 1.8 TFSI engine that returns up to 51.3mpg to the superb 3.0TDI Quattro which whilst still returning up to 46.3mpg delivers performance that's class-leading. As with all other Audi ranges, there are diesel and petrol versions available.
The Audi A5 comes in 3 versions, the Coupe, 5 door Sportback and the Cabriolet.
Priced to compete with other prestigious brands the A5 offers a premium package with a very classy cabin and an interior that displays luxurious touches. As with all Audi's the level of equipment that comes as the standard continues to impress.
Packed with technology to assist the driver the Audi A5 boasts an impressive portfolio including such items as the Audi 10 speaker sound system, Bluetooth interface, 3 zone climate control, cruise control and electromechanical power steering to name but a few. If you want to learn how to improve these features of your car, like the sound system, then make sure to read this useful and informative guide to a powered subwoofer for the car.
There are various styling packages available including the S-Line, exterior aluminium package and rear spoilers, plus many more to customise your new Audi.
See how much a new Audi A5 could cost you with our money-saving online quotation service. We find the best deals for your requirements, simply build your ideal Audi selecting such options as trim, interior add-ons and exterior preferences and let us do the hard work for you. We work with a network of Audi dealers who could all save you thousand instantly.