Best UK prices on Audi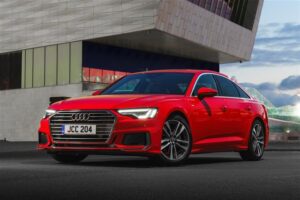 Audi discounts UK
Audi is a German car manufacturer, founded in 1909 as of August Horch Automobilwerke GmbH and which since 1910 adopted the new Audi designation. It belongs to the Volkswagen Group since 1964.
With one of the widest ranges of any car manufacturer Audi deliver for all tastes and requirements. From fashionable Superminis to supercars you're sure to find an Audi that suits your needs. Each range backed by precision German engineering and car-making experience.
Audis main advertising slogan is Vorsprung Durch Technik meaning 'Advancement Through Technology and this is certainly apparent throughout all their range. With stylish designs and performance to match Audi constantly leads the way in automobile innovation.
From the A1 to the Q7 Audis range comes in all shapes and sizes and for all driver experiences.
Saloons, Compact, Coupes and award-winning Cabriolets, not to mention SUV's and 4×4's, Audi delivers.
New Audi customers are often pleasantly surprised at just how affordable their new car was expecting such high-quality engineering and craftsmanship to come at a premium. Not so with Coast2CoastCars. We can help you find your perfect Audi at your perfect price. We work with an extensive portfolio of nationwide Audi dealers who can offer your new Audi at greatly reduced prices with the best guarantees and a reliable auto repair for Audis.
Audi constantly strives to improve the driver experience through advancing technology. From Dynamic Suspension, Electromechanical Power Steering, Bluetooth controls to Stop/Start technology to save fuel consumption and Voice Control Systems Audi continues to be at the forefront of the motor industry when it comes to technology.
Backed up with excellent after-sales and customer service the Audi experience is why owners keep coming back. Find out today if we can save you thousands on your next new Audi.