Best UK prices on Audi A6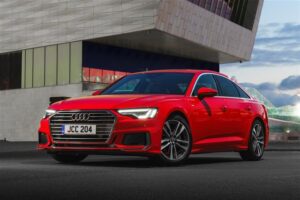 Redefining space and comfort the Audi A6 Saloon continues to set the standard for interior quality and spacious design. There is ample room for luggage for long journeys for all passengers. Leg and headroom feel ample and the boot will provide as you will need in a saloon.
The exterior looks carry an air of class and dignified elegance whilst the interior dashboard layout make driving a pleasure. With easy to read instruments and an easy to use display screen from which you control most of the car's functions. The feel of quality and comfort oozes from every piece of chrome, leather and metal.
As with all Audi ranges the A6 comes in a variety of models such as the even more spacious Avant Estate and the road-gripping A6 Allroad Quattro Estate, combining both the practicality of an estate with the performance of a sports car.
There are also S versions that take the power output to a whole new level, upping the stakes in terms of sporty exterior looks and under the bonnet performance. Again the S version is available as an Estate too.
The engine options again cover all requirements. From the 2.0 TDI ultra 7 Speed S Tronic that returns up to 67.3 mpg to the 3.0 BiTDI Quattro which whilst delivering breathtaking power still manages to return up to 47.1mpg.
Buying direct from Audi through one of our nationwide dealers could save you thousands. Our dealers offer exclusive packages for any make and model and indeed specification of Audi A6. Gaining a quote couldn't be easier, just complete the online form selecting any extras or preferences and we do the rest, should you wish to enquire more about the quote we displayed then we can contact you today, all our service is free at all stages.