Best UK prices on Audi Q7 e-tron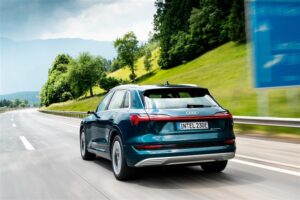 Developed, like the rest of the family, on the new longitudinal modular MLB platform of the four rings compatible with all powertrain solutions and with the most advanced technological solutions of Ingolstadt, the Q7 e-tron 3.0 TDI Quattro is the first plug-in hybrid to be a world based on the combination of the 94 kW (128 hp) electric motor, a 6-cylinder turbodiesel – in this case, the 258 hp TDI 3.0 – and all-wheel drive.
The result is a 373 hp system and 700 Nm of maximum torque that gives this SUV authentic sports performance, certified by 0-100 acceleration in 6 seconds and a maximum speed of 225 km per hour.
The outside doesn't give any indication as to what lies beneath in terms of the hybrid engine. The e-tron has the usual luxurious interior as expected from Audi. The virtual cockpit comes as standard as does all the usual meticulously placed buttons and switches.
Returning an unbelievable 166mpg or 35 miles per full charge battery only. Charge time from any domestic plug socket is 8 hours or 2.5 hours from a fast charger.
There's no road tax due to the low C02 emissions.
0-60 takes just a sprightly 6 seconds. The e-tron is each to charge, impressively efficient and you can choose to drive with just the petrol engine, electric engine or both in hybrid mode. Audi once again leads the way in hybrid engine technology and continues to make advances to secure a better environment and cleaner fuel.
Why not let Coast2CoastCars search the latest Audi Q7 e-tron deals online for you, we could save thousands of pounds off the list price. There's no obligation to use our service and it's totally free. Just select the options, spec and model of the car you want and we search the database of deals for you. See how much you could save online now.