Best UK prices on Audi A8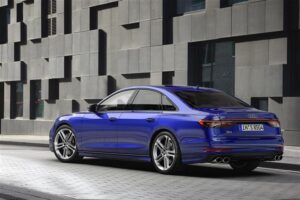 Labelled as one of the flagship Audi ranges the A8 doesn't disappoint in the luxury factor. Understated and oozing in class the A8 sits at the top of the tree when it comes to executive cars. Full of German goodness and technology the ride alone is worth the money.
Having undergone a recent facelift the A8 3 Litre TDI version now gives back up to 47.9 miles per gallon. Every dial, switch and button within the exterior is expertly placed and with the finish being improved the interior really is a place to relax as a driver or passenger.
There's a 4.2 Litre TDI engine with enough torque to trouble a supercar and able to reach speeds of 62mph in just 4.9 seconds.
The chassis is entirely in aluminium (absolute novelty among large production cars) and the engines are initially the 3.7-litre V8 petrol engine with 230 HP and 4.2 litres with 300 HP, coupled with the Tiptronic automatic transmission (novelty among the sedans) and the four-wheel drive.
There's also the Quattro option which improves the road-hugging and agility no end.
The Audi A8 ticks all the boxes and can be had in 3 versions, the S8, A8L and S8. Which you go for is up to you. The S8 is the top of the range model with a reputation of being the ultimate in luxury saloon cars and packed with a 4 Litre Twin-Turbo V8 engine there's no getting away from the fact the power is there if you need it.
Of course, with a top of the range, Audi A8 comes to the price, however, we can significantly reduce this and potentially save you thousands with our online free quotation service. See how much you could save on a new A8 today with Coast2CoastCars.