Best UK prices on Audi Q5
Best UK prices on Audi Q5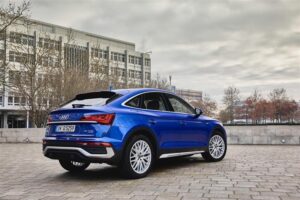 The all new Audi Q5 is here and boy was it worth the wait. Instantly classier in every way and with a new platform to sit on the Q5 quite simply rediscovers what family SUV should be, so all the family can enjoy the ride, from the father and the mother upfront, to the kids sitting on the back playing video games with their Armchair Empire headsets or maybe improving their gaming skills with sites as Overwatchboostpros.com. With a chunky rugged look and sleek lines heads will surely turn.
The new model is almost 100KG lighter than previous models. There is a choice of front or all wheel drive systems and as usual diesel and petrol versions will be available. The economical 2.0 Litre front wheel drive version pushes out 148bhp giving the Q5 enough power to keep everyone entertained. A much more powerful 6-cylinder diesel option is available generating 268bhp from the 3.o Litre V6 engine powering the Audi Q5 into a very sporty category indeed.
The interior has had a welcome overhaul presenting a wide range of finishes and greater personalisation options. Improved legroom and knee room are also a welcome addition due to the longer wheelbase.
Safety as always is paramount with features such as light and rain sensor, electromechanical parking brake, rear parking sensors and a whole host of other features coming as standard.
Bluetooth interface comes as standard with DAB and the excellent Audi Sound System included on all models within the comfortable cabin like feel of the Audi Q5.
Prices vary however some Audi dealers can offer discounts on the list price. We work with these dealers within or online quote system, see how much you could save on a new Q5 online instantly with our real time savings deals.