Mazda pcp car deals
Mazda PCP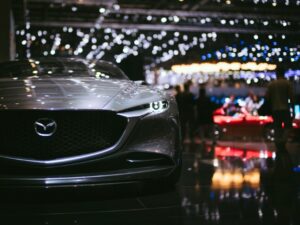 At Coast2Coast Cars we strive to ensure that your clients can access the latest Mazda PCP deals. As experts in sourcing the latest deals, we are confident that we can help you find your next Mazda car.
Mazda is a widely recognised car manufacturer, offering style, comfort, reliability and a presence on the road, so it is clear to see why it is a popular choice for many car owners.
Why Choose a Mazda?
As experts in the car industry, we have seen Mazda go from strength to strength, refining their cars and offering something for all buyers. They are now manufacturing some of the most beautiful cars on the market and that is the reason why so many make them their vehicle of choice.
The elegant styling is eye-catching and the comfort within the car is always a hit with owners. The car also offers a sensational drive throughout their range of cars which means it doesn't matter if you are opting for the small Mazda2 the popular Mazda Cx-5 or the Mazda MX-5, you receive a car that delivers a unique experience.
What's more, they also offer a choice of cars that cover the whole of the market. So, if you are looking to lease a smaller vehicle that's suitable for small journeys then the Mazda2 is the perfect pick.
If you want comfort and presence on the road while having enough space for the family then the Mazda CX-5 is ideal. However, if you want something sporty then the Mazda MX-5 is iconic and sure to turn heads. So, Mazda has something for everyone and we are proud to offer you the latest lease deals.
Why Opt For a Mazda PCP?
Mazda PCP or Personal Contract Purchase is a great way to own the latest Mazda vehicles without the need to take out a large finance deal or spend your own savings.
A lease deal on a Mazda is about having the ability to drive the vehicle that you want at a price that you can afford. All you need to do is make a small deposit and pay a monthly fee and you will find yourself driving the latest Mazda. It's hassle-free and provides an effective way to drive the latest vehicles. You can opt to find the best deal that fits your budget and the term over which you take out the lease.
Then, once the period comes to an end, you can choose to hand the car back or pay the balloon payment to own it yourself, giving you even more options.
A Mazda PCP is a simple approach to getting the vehicle you have always wanted and you can find the latest deals when you move around our website and use our lease page to find the right car for you.
How Coast2Coast Cars Can Help You
We understand the importance of saving money and that's why our experts scour the entire market to find deals that work for you. With our online lease configurator, it will collect any information about the vehicle and budget you require and then we find the deals that work for you.
The aim of our website is to provide services and lease deals that really are best out there. As we have access to a network of dealerships and manufacturers, we can drive down prices and make sure that we always return deals that deliver satisfaction.
Our goal is to always maintain our high standards and because deals are always changing, we make sure that we keep our finger on the pulse by ensuring we deliver the newest PCP deals on Mazda cars. We do everything we can to work hard for our clients and that's why our website has been designed to provide a seamless experience that takes the hassle out of finding your next car.
With our intuitive lease deal finder, you can ensure that we are ready to work with you and help you to find your next lease car with ease.
All our Mazda quotes include any deposit contributions where applicable