Porsche Finance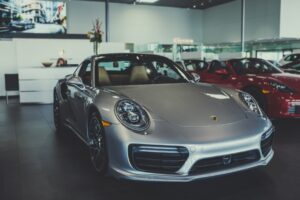 Porsche is considered to be one of the most luxurious car manufacturers in the world, offering cars that are built with finesse and performance. They offer cars to suit all, so whether you are looking for battery power or fuel-driven cars, you won't have any problems finding the right care for your needs. Known for their sports performance the Porsche Macan, the 911, Boxster, the Cayenne, Cayman and the Panamera, it is clear to see why Porsche is such a captivating car manufacturer.
What Makes Porsche Cars So Unique?
Porsche is a car manufacturer that has constantly appealed to the imagination and desires of every car lover around the world. That inimitable design, sleek lines and power have all made this a car that is hugely desirable. Initially known for its two-seater vehicles, the manufacturer has now branched out and offers cars that are suitable for those who are looking for something that is perfect for the family.
However, once you experience the quality and workmanship of a Porsche car, you will instantly feel drawn to the design and experience. Interior materials that deliver a bespoke touch to bodywork that really appeals to the eye, it's a manufacturer that understands the importance of bringing together performance, design and craftsmanship.
At Coast2Coast Cars, we strive to offer our customers a vast range of Porsche cars, giving them the chance to own their dream car. If you are looking for a two-seater sports car then the Boxster or the Cayenne promises to tick every box. If you are looking for something that is more practical and has more space then the Cayenne or the Macan are suitable for families. However, what you get with Porsche is reliability, sleek designs and a car that is guaranteed to turn heads.
Why Coast2Coast Cars Can Provide the Best Deals
At Coast2Coast Cars, we are confident that we can always bring our customers the latest deals. As Porsche is considered to be a luxury car manufacturer, we want to make sure that you pay the lowest possible price. Whether you are looking for a lease deal or you want to purchase a Porsche, we have access to the latest deals on the market.
We work closely with our network of dealers and manufacturers to make sure that we are always accessing the latest, up-to-the-minute deals. What this means is that you can be sure that we have our finger on the pulse when it comes to finding your dream car while making savings.
Whether we can bring you money off, dealer discounts or payments towards the deposit, there is a myriad of deals on offer and because they are constantly changing, it is always worth speaking with us first.
Our commitment to offering the best deals sets us apart and that's why more people turn to us to give them the deals they are looking for. Owning a Porsche doesn't mean paying over the odds because we have the ability to give you deals that will really make you smile.
How Porsche Finance Can Help
We understand that purchasing a Porsche outright is a significant purchase and it is out of reach for many. However, that doesn't mean that you won't be able to purchase a Porsche.
Not only do we provide the latest deals, but we also have access to finance that makes owning a Porsche even more possible for you. Our finance deals come with a low APR and they enable you to make payments over a wide range of periods, giving you the scope to control how much you spend each month.
You can choose to pay off a larger deposit or increase your monthly payments to avoid paying a large deposit. Whatever you choose, you can be sure that we offer bespoke finance deals that work for you. Our team provides you with deals but also their advice and guidance, ensuring you make an informed decision based on your circumstances. We make the entire process of owning a Porsche as simple as possible.
Why You Need Coast2Coast Cars
When it comes to sourcing the best deals and making clients a priority, Coast2Coast cars have it all covered. We are a team of dedicated experts who have a passion for delivering the hottest deals currently available as well as finance deals that work for you.
Our goal is to deliver customer satisfaction while ensuring we maintain our high standards and always put the needs of our clients first. So, we take the hassle out of purchasing your next car by ensuring we provide an honest and transparent service that you can rely on.