Best UK prices on Porsche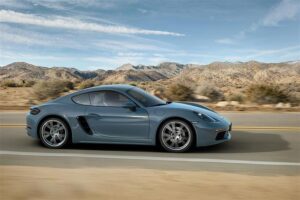 Famous for making high-performance cars Porsche based in Germany were founded in 1931. Recognised around the world as the cult classic the Porsche continues to develop cars that simply push the motor industry to new levels. Technology is so advanced it makes driving pure pleasure. From the classic Porsche 911 to the practical Cayenne there's a model for you and to suit every lifestyle.
If you're seeking the perfect sports car then Porsche can deliver. From stunning performance to beautiful looks the Porsche badge is more than just a symbol of excellence. It represents a long history of immaculate craftsmanship and proud heritage.
It's not just about the horsepower it's about the driving experience, the style, the looks, the comfort factor and safety standards of course too. Intelligent Performance is what Porsche like to base their cars on.
If you'd like to see how much you could potentially save on the iconic Porsche range then why not contact the fully trained and professional consultants at Coast2Coast Cars. You could be surprised to find you can save £1,000's from the list price of your new car just by using our fully trained staff. Just build the Porsche of your dreams and we do the rest searching our network of dealers for the exact model you desire. Finance can be arranged as well via Porsche Financial Services with packages to suit all. To get started simply build your car using our step by step form and we locate the exact model for you with prices that could save you money.