Best UK prices on Ford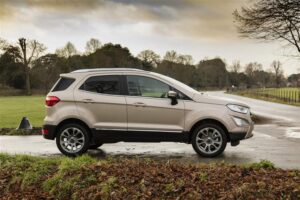 At Coast2Coast cars, we provide an array of amazing deals and ford discounts. Ford motor company limited is one of the largest car manufacturers in the world and that's why are proud to offer the latest deals with Ford finance.
Ford offers a range of vehicles that are suitable for everyone and we provide access to their extensive range of vehicles, all you need to do is take a look at our configurator to see the cars on offer.
If you are looking for a small yet versatile car then the Ford Fiesta is the perfect choice while the Ford Focus is perfect for those seeking more space.
For families the Kuga or the Mondeo are also a popular choice, proving that Ford vehicles are designed for everyone.
Why Leasing or buying a Ford is the Right Choice
Ford cars are not just highly reliable but the company is also known for its continuous product development. Each and every one of their vehicles is designed to offer reliability, quality and elegant looks, making them a popular choice when it comes to leasing.
Ford vehicles are available in a range of sizes, with our configurator showcasing the models and items illustrated that are on offer. When you lease or purchase a ford car from Coast2Coast Cars you can benefit from some of the best deals on the market and all of our deals reflect the latest UK specifications.
Whether you want to keep costs low with a basic model or an enhanced model, you can benefit from our service which is authorised and regulated. What makes Ford stand out is its ability to offer affordable cars that each and every client can take advantage of. You can lease or purchase high-powered versions or vehicles with smaller engines for new drivers, you can choose your specifications that are featured at additional cost.
Lease deals provide a hands-off experience to motoring.
You don't need to worry about arranging a part-ex for your vehicle because once the lease agreement comes to an end, you can consider your options and simply hand the vehicle back and replace it with another car.
You've also got a wealth of lease options available too. So, you can choose a lease deal that ranges from 12 months up to 48 months in length and we have a range of upfront payment options available. Effectively, leasing a ford car from Coast2Coast Cars provides a seamless experience without the need to visit a Ford dealer.
Of course, we also offer the latest deals on new cars, working closely with dealers and suppliers to find the hottest deals out there.
What's more, our Ford deals are constantly changing as we work hard to bring you the cheapest prices and deals on the market. We want to improve your online experience and help you benefit from cheaper motoring that puts you in control.
Furthermore, as you can lease or purchase the car from new, it will also mean that you benefit from the manufacturer warranty, offering complete peace of mind.
Why You Should Get Your Next Ford From Coast2Coast Cars?
Whether you're new to leasing or have past experience, with us you'll be in safe hands. We make the entire process of leasing a vehicle as simple as possible, leaving you to enjoy the entire experience. We are experts in all aspects of selling and leasing vehicles, allowing us to provide the very best service that delivers customer satisfaction.
When it comes to purchasing your next Ford car, turning to us will be one of the best decisions you make. We can help you to make
savings and purchase or lease your next vehicle with minimal fuss or hassle. For more details on our latest Ford deals, take a look at our website or please contact us to talk with one of our representatives.